Strength training, evolved.
AI-enabled strength training. Motorized resistance.
Accurate, real-time data.
Get stronger, live healthier, Go ARENA.
Get Started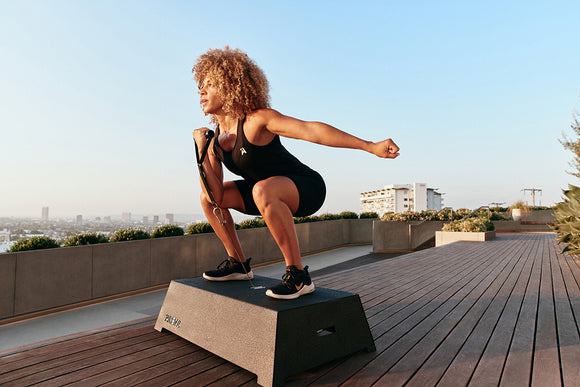 Redefining the Gym Experience
How we're doing it
Learn More
The ARENA Platform
and Accessories
Full Access to the Go ARENA App and Features
Weekly Training Goals to help you progress
ARENA captures key metrics: weight, reps, velocity, muscular effort & calories acting as your strength database
Efficient workouts, build muscle faster due to constant resistance
Compact and battery powered portability, use ARENA anywhere
Always PR- Instant weight adjustment by the pound
Eccentric Weight Mode unlocks a new type of strength training
Workout as a team- easy to use partner modes allow you to workout with friends
Access to ARENA Trainers
Dedicated Concierge Service
Access to ARENA's hardware refresh
View All Benefits
Close
Showing up is half the battle. The other half is consistent, quantified tracking of your performance. We measure every session, every push and pull of the cable, every kilojoule of effort. We know how strong you are, and how to get you stronger.
What's Next?
Every week we send you a personal Optimal Training Dose (OTD) Goal based on your personal strength data. An Adaptive AI trainer sets your OTD Goal each week aimed at maximizing gains while minimizing the time you need to spend working out.
Everyone Needs a Coach Sometimes
When automated tracking just isn't enough, or you don't know if you're doing the move right, ARENA trainers are here to help. Reach out to an ARENA trainer for advice, tips, or form correction questions. ARENA trainers will help you get the most out of your Platform.
Your concierge is also part of your team and will help you manage your billing, hardware logistics, set up, or any other concerns you might have.
Community Makes Winners
As part of the ARENA family, you are joining the worlds first decentralized gym. We are building digital and IRL communities for you to interact and support one another on their fitness journey.
Simple on the outside,
cutting-edge technology on the inside
Lift up to 200 lb of isoinertial resistance with one portable device.
Data Rich
The ARENA Platform tracks your performance data in real time. For every rep ARENA records the weight, velocity, distance, and muscular effort with unprecedented accuracy. Unlock insights into your strength.
Novel Portable Design
The ARENA Platform contains a miniaturized powertrain and battery system inspired by high-performance electric cars. At roughly the size of a carry-on suitcase, the ARENA Platform goes where you go, without being tethered to a plug.
Efficient Workouts
Perform functional, highly effective compound moves while the motor inside provides constant resistance that can be controlled instantly via the Go ARENA app. ARENA gives you the most efficient workout your money can buy.
Long Battery Life
You help power your ARENA Platform. Our battery captures and recycles the energy you created. One charge of the ARENA Platform will last 30 days for most at-home users.
Get your ARENA
Flexible payment options allow you to lease your ARENA or own your ARENA

Purchase
Finance with Affirm for $69/mo.
$2,495
A brand new ARENA and accessory kit
Unlimited access to the Go ARENA app
Up to 5 different app accounts
Concierge services
Access to ARENA trainers
Finance price
For as low as
$69
/mo
with 0% APR for 36 months
A brand new ARENA and accessory kit
Unlimited access to the Go ARENA app
Up to 5 different app accounts
Concierge services
Access to ARENA trainers
Lease
Save 10% with an annual plan!
$99
/mo
The ARENA Platform* and accessories
Unlimited access to the Go ARENA app
Up to 5 different app accounts
Concierge services
Access to ARENA trainers
Hardware refresh**
12-month minimum
Best value
Annual lease
Save 10% with the annual plan.
$1,068
The ARENA Platform* and accessories
Unlimited access to the Go ARENA app
Up to 5 different app accounts
Concierge services
Access to ARENA trainers
Hardware refresh**
20% off the monthly lease for 1 year or 10% off purchase price for Health Care Workers,
Military, First Responders, and Teachers with a valid ID.
Hero's Discount
How it Works

Step 1
Choose your payment option
Should I purchase or lease?
Whether you should purchase or lease your ARENA Platform depends on your preferences and financial situation. Both options present unique advantages.
Purchase
You own your ARENAPlatform
You are guaranteed a new ARENA Platform
No monthly subscriptions or additional fees
Leasing
You are leasing your ARENA Platform
You are not guaranteed a new ARENA Platform. However, you are guaranteed a new or like new ARENA Platform.
No upfront cost ($0 down payment)
Ability to return the ARENA Platform after 1 year (12 months)
Ability to refresh the hardware after 3 years

Step 2
Receive your ARENA Platform
What is included with my ARENA Home Gym?
Every ARENA Home Gym comes with an ARENA Platform, accessory kit, and unlimited access to the Go ARENA App (up to 5 accounts). With up to 5 accounts, share your ARENA Home Gym with your family and friends! Have them create accounts and start lifting with you.

Step 3
Train!
What workouts are available on the Go ARENA App?
ARENA workouts are designed to be efficient and effective! There are 4 main workout categories in the app.
The Daily Lift
A series of daily workouts that target different muscle groups each day, giving you a balanced workout regime. Every week,  seven completely new daily workouts are uploaded to the app. Workouts on The Lift are divided into three (3) strength focused circuit-style workouts, three (3) HIIT-style workouts and (1) recovery workout.
Workout Programs
4- 12 week programs developed by professional trainers. Each ARENA Program is designed for a sport, activity, or targeted purpose.
10 min Workouts
A series of 10 min workouts designed to be added on, stacked, or utilized when you're short on time.
Freestyle Workout Mode
Allows you to lift however you want. If you are someone who likes to program your own workouts or if you are working out with a trainer, Freestyle Mode is perfect for you!

Step 4
Unlock Data and Insights
What workouts are available on the Go ARENA App?
ARENA tracks high level strength data as well as detailed exercise metrics. During every ARENA workout we measure your muscular output (exerted work), intensity, and calories. We also track weight, repetitions, sets, average velocity per rep, and range of motion for every exercise you do.
I am a selfless parent
I am a busy professional
I lift at my own pace
I love my own music
I love my own space
I am a weekend warrior
I have a small apartment
I don't know how to get started
I want to see measurable results
Why People Love ARENA
Hear from current ARENA customers and members
The Arena solved all my strength training issues. Everything you need to use the machine is included, the workouts are pre-built, moves are demonstrated on the app, and I can easily adjust the weight in real time. The machine is sturdy, portable, and can be used anywhere. I can just turn on the machine, choose a workout, and go. It pairs perfectly with my cardio solution, and I can feel myself getting stronger after just a few weeks! My wife was a skeptic at first, but now she loves it too. I'm extremely happy with my purchase.
Tim G.
"As an avid runner, I've always known that incorporating strength training into my routine would improve my endurance and prevent injuries. However, as a working mom, I struggled to find an easy, convenient, and effective strength training tool. I began using ARENA because it clearly tracks my strength gains over time and fits my busy schedule. I've found that the workouts have exceeded my expectations. With just a short workout, you really feel like you're putting in the work. The resistance technology really makes me feel like I'm getting the most out of my time, and the progress tracking is clear."
Stacy F.
"I mostly use ARENA for high-intensity interval training (HIIT) and strength workouts, which provide me with an effective full-body workout without the hassle of weights. I've found ARENA more challenging and engaging than dumbbells, and I really appreciate the variety of exercises, short rest periods, and accountability the platform provides. I can't stress enough how satisfied I am with ARENA, especially regarding its simplicity, effectiveness, and the personal touch of the company's customer service."
Dave C.
"I initially got the ARENA Platform to help me recover strength, mobility, and comfort in my leg after an ACL surgery. After 8 months of doing standard PT, I still lacked power and mobility in the leg. After switching up my rehabilitation regime and starting using ARENA 4-6 x per week, I saw great strides in regaining strength and mobility in my leg. I found ARENA to be a very safe and effective tool during my rehabilitation process and beyond. I owe having a full range of motion in my leg to the ARENA. Now that I am fully recovered I still use my ARENA to get stronger!"
Dario C.
"I have always found gyms and free weights to be daunting and needed a simple tool to get effective workouts in without much thought or setup. ARENA not only provided me with a compact and straightforward alternative but was instrumental in my journey to living a healthier lifestyle. After 30 days of using ARENA and improving my nutrition, I lost 4.6 pounds of body fat while gaining a bit of lean muscle."
Jimmy G.